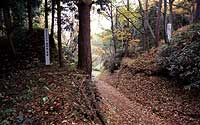 Overview
Of the two provinces in Iwate Prefecture, Otoshu Dochu (Oshu Highway), Fichiko, Narita Irizuka, Ono Matsuri Irizuka, Mido, Ibamatsu Iritsuka, Kawabe Ilizuka, Namibatori Irizuka, are left.
This Nanami-machi-ri-ritsuka is in the form of a circular earth wharf, and it is valuable because it retains the perfect shape at the time of construction.
East side mound: diameter 11 m, height 2 m 50 cm.
West side mound: diameter 11 m 50 cm, height 2 m 25 cm.