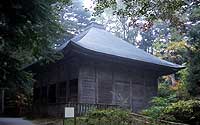 | | |
| --- | --- |
| Designation | National Important Cultural properties |
| Classification | Construction |
| Designated Date | April 5,1931 |
| Designated Date in detail | |
| Amount | April 5,1931 |
| Address | Aza-Koromonoseki, Hiraizumi |
| Holder | Konjiki-in |
| Retainer | |
| Administrator | Chuson-ji |
| HomePage | Hiraizumi's Cultural Heritage |
Summary
Approximately 9 square meter, a single story,  Hogyo (an equilateral hip roof) style architecture.

It used to have thatched roof, but later changed to pan-tile roof, and then copper roof at present.
It is the shelter, built for the protection of Konjikido as National Treasure from bad weather.
According to the result of recent archeological research, it has been revealed that it has developed from very simple form to recent style.
This simple architectural shelter is presumed to be the work not before the middle of Muromachi-era, by examining the technique of eaves and tokyo in detail.
(tokyo = bracket complex composed of bracket arms and bearing blocks)