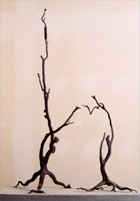 | | |
| --- | --- |
| Designation | National Important Cultural properties |
| Classification | Arts and Crafts |
| Designated Date | June 6, 1984 |
| Designated Date in detail | |
| Amount | 2 |
| Address | Aza-Hanadate,Hiraizumi |
| Holder | Senju-in |
| Retainer | |
| Administrator | |
| HomePage | Hiraizumi's Cultural Heritage |
Summary
It is said to have been in the O-Amida-Do Hall of Kanjizaio-in, or in the house of the third Fujiwara lord Hidehira, and it is also said to be the work of Maikusa, an iron-burner.
It is very rare to have such a large iron tree, and considered to be decorated in the garden during ceremonies.
They are regarded as coral tree and orange tree, and used to have some leaves and flowers. The gently curved line of the twigs and branches express graceful and exquisite features.
It is said to be the work of the late Heian period, and is the excellent work to show the high quality technique of Fujiwara Heian culture in metalwork of hammering iron.