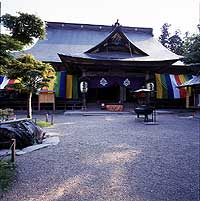 | | |
| --- | --- |
| Designation | Nationally-Designated |
| Classification | Special Historical Sight |
| Designated Date | May 22, 1979 |
| Designated Date in detail | September 30, 2004 addition |
| Amount | |
| Address | Aza-Chuson-ji,Hiraizumi |
| Holder | Chuson-ji etc. |
| Retainer | |
| Administrator | |
| HomePage | Hiraizumi's Cultural Heritage |
Summary
Chuson-ji is located in Aza-Koromonoseki,  in the northern end of Hiraizumi-cho, and the courtyard consists of whole mountain area called Sekiyama.
According to the temple document, it was founded in 850 by Jikaku Daishi(a high-ranking priest) and used to be called "Kodai-juin", and the name "Chuson-ji" was given in 859 by Emperor Seiwa.
The construction of Chuson-ji was first started by the commission of  the first Fujiwara lord Kiyohira in 1105, according to the Chuson-ji documents called "Taishu-Sojou" in 1334, and the inscription of the bell in Chuson-ji.
The purpose of erection was described in "Rakukei-Kuyou-Ganmon" (a Pledge for the memorial service in 1126) in detail.
According to the document, the Chuson-ji consisted of the Hall (a square shape with 5.5 meter both length and width) with a roof covered with layers of Japanese cypress hinoki, and Rou (passageways approximately 40 meters long on both ends), 3 of three-storied pagodas, a two-storied tile-roofing Kyozo Sutra repository, a two-storied bell tower, 3 of Great Gates, 3 of formal style fences, a curved bridge and an angled bridge.
"Azuma-kagami", the official Kamakura-Shogunate diary, explained bygone days of Chuson-ji era. However, it differs from the other record "Taishu-sojo (people's written appeal in 1334) about the facts. 
By the archaeological research from 1953 to 1968, these remains were found as follows ; the remain sight of Daikon-do Hall,Tahou-tou (a 2-storied pagoda), Ou-ike (a large pond), Sanjuu-ike(a pond), old Kyozo. However, they are not correspond with some of documents and records.
Chuson-ji went into a decline after the loss of the ruler, Fujiwara family. Especially most of halls and pagodas had been destroyed by wildfire, and only Konjiki-do (Golden Hall) and Kyozo remained. Nevertheless, it still consists in many valuable National Treasures and Important Cultural Assets like Chuson-ji Kyou (special collection of sutra) and Ichiji-Kinrin Seated Statue.