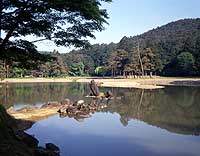 Designation
Nationally-Designated
Classification
Special Place of Scenic Beauty
Designated Date
November 12, 1957
Amount
Designated Date in detail
November 12, 1957(Place of Scenic Beauty)
May 23, 1959(Special Place of Scenic Beauty)
Address
Aza-Osawa, Hiraizumi
Holder
Moutsu-ji Temple etc.
Retainer
Administrator
HomePage
Hiraizumi's Cultural Heritage
Summary
Motsu-ji Temple was said to be commissioned by Kiyohira the first lord of Oushu Fujiwara, then continued by Motohira the second and Hidehira the third, and completed.
The Motsu-ji Garden with a large pond called Oizumiga-ike (Great Spring Pond) in the middle, expresses the typical gardening style of Heian era.
The Oizumiga-ike Pond is located in the middle of Minami-Daimon (South Great Gate) and Kondo-Enryu-ji Temple. According to the style of Heian Garden planning, they are designed centering on the pond, stretched from the west to the east.
The pond used to have two curved bridges in the north and the south centering on the middle island in the pond.
Nakajima(middle island) is a comma-shaped long island stretched both direction of east and west, and created sandbars all around.
Yarimizu (Feeder Stream) flowed into the pond through Shoro (bell-tower) site from Benten pond in the northeast. The stream is following tide from northeast to southwest, and there are a small isle and capes on a beach with upright standing stone, leveled stone and a comma-shaped long beach. On the contrary, the southwest beach has two artificial hills piled with a large numbers of stones, and created a masculine landscape. In this way, it expresses a distinctive character of Jodo-Teien (Pure Land Garden).
It is the most perfect and the only example of Jodo-Teien remain in existence among gardens in Heian era. It is indeed significant Cultural Heritage in the history of Japanese culture and landscape architecture.