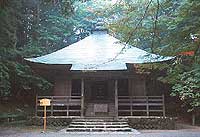 | | |
| --- | --- |
| Designation | National Important Cultural properties |
| Classification | Construction |
| Designated Date | April 23, 1908 |
| Designated Date in detail | |
| Amount | 1 |
| Address | Aza-Koromonoseki,Hiraizumi |
| Holder | Daichoju-in |
| Retainer | |
| Administrator | Chuson-ji |
| HomePage | Hiraizumi's Cultural Heritage |
Summary
It is a five front square, single story building, and has Pyramidal roof on top.
It is located in the northwest side of Konjiki-do, and is estimated to be built approximately 1126 A.D. according to the document "Chuson-ji Kuyo Ganmon"(Dedication Pledge for the Completion of Chuson-ji).
It used to be a second story building and had clay tile roofing in the beginning, but unfortunately the whole second story was burned down. Since then, restoration works have been done several times and the present building is a single-story with sheet copper roofing.
The seven layers of Urushi lacquered scripture shelves are leaning against three walls. Top of the shelves are decorated with Fukikaeshi decorative boards and colored rose flower motif.
There used to be some kyobako which contained " National Treasure: Konji-Kinshi-Issai-Kyo (Buddhist Scripture)" inside.
This script is now moved and located in the Sankozo since1955.