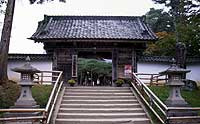 | | |
| --- | --- |
| Designation | Prefecturally-Designated |
| Classification | Construction |
| Designated Date | June 6, 1969 |
| Amount | 1 |
| Address | Aza-Koromonoseki,Hiraizumi |
| Holder | Chuson-ji |
| Retainer | |
| Administrator | |
| HomePage | Hiraizumi's Cultural Heritage |
Summary
Frontage   6.06 m
Depth      2.49 m
Height     6.28 m

It is a wooden, tile roofing, 5.4 square meter single build gate, (with Sendo-door), called Yakuimon (a gate with a gable roof constructed with two square main posts and two square secondary posts).
Presumably, it is the construction of early Edo Period.
According to the Chuson-ji Den (Biography), originally it used to be the old gate of the mansion for Date-Hyobu-Munekatsu, and relocated to the present location in 1659.
Great influence of Momoyama period can be observed in this part of shafts and the embellishment of gable pediments.
The decorative technique is substantial, and it is very significant architectural remain as Yakuimon Gate in this area.