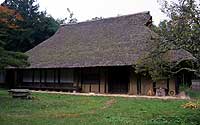 | | |
| --- | --- |
| Designation | Prefecturally-Designated |
| Classification | Construction |
| Designated Date | February 27, 1979 |
| Building | 1 |
| Address | Aza-Koromonoseki,Hiraizumi |
| Holder | Hosen-in |
| Retainer | |
| Administrator | |
| HomePage | Hiraizumi's Cultural Heritage |
Summary
Frontage   17.571 m
Depth       10.790 m

This is a wooden, stone based, one-story oblong house, and outer wall is half-timbered, with a thatched gambrel roof.
Upper end (left hand) of the house, there are two guest rooms and a storage room in the back. In front part of the central section , there is a main room on the front row called Nakama, and then Chanoma(living room) in the back. The construction year is unknown, but it is regarded as pre-modern architecture considering the structure, the configuration of post's cross section and the span between pillars.
It is the oldest architecture existed among many temple buildings in Chuson-ji complex.
The style of the house arrangement is quite similar to many old private houses in Iwai county in Sendai area. It placed the guest room, the storage room and Chanoma in front section, and Okuzashiki (Inner parlor ) at the back.
The main temple building, on the right hand of priest's quarters, is the construction of mid. 18th century and equivalent to the reception room of separate building, and the structure is quite similar to the one of upper class farmers.
It can be categorized into the oldest architectures in existence as a private house. This is one of the most valuable buildings in architectural and cultural history, in order to know the exchange of the architectural style between the priest quarters and the farmhouses, since there has been no clear record of the architectural data regarding to the priest quarters in rural temples.