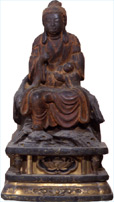 | | |
| --- | --- |
| Designation | Prefecturally-Designated |
| Classification | Sculpture |
| Designated Date | July 25, 1956 |
| Amount | 1 |
| Address | Aza-Koromonoseki,Hiraizumi |
| Holder | Daijo-in |
| Retainer | |
| Administrator | |
| HomePage | Hiraizumi's Cultural Heritage |
Summary
Height  42.4 cm
Wooden, White Cedar, Single Wood-block Sculpture,
It is a statue of Female god with a baby on her left arm, and a twig of pomegranate on the right.
It used to be called as Kishibo-jin, a female gnome who captured chidren and ate them, yet repented and converted to Buddhism and became the goddess to guard children.
This statue of Kariteimo is quite rare to find anywhere in Japan, and is particularly excellent in its shape. It is presumed to be made in late Heian period.