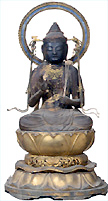 | | |
| --- | --- |
| Designation | Prefecturally-Designated |
| Classification | Sculpture |
| Designated Date | April 26, 1977 |
| Amount | 1 |
| Address | Aza-Osawa, Hiraizumi |
| Holder | Hakuou-in |
| Retainer | |
| Administrator | |
| HomePage | Hiraizumi's Cultural Heritage |
Summary
Statue Height 32.0 cm
It is a wooden, Japanese Judas tree, single wood-block sculpture, lacquered and gold-foiled, and used Chogan technique (Eyes carved directly into the surface of a wooden sculpture).
It has a piece of horizontal board in front of the both legs of the main part. It has Sparse Carving on beard, hair and decorative hair band, and both arms are bent, holding lotus flower with left hand and lifted the right hand up and softly bend, with thumb, 2nd and 3rd finger are gently facing forward. Wearing a decorative scarf and holy garment, and seated with right leg outward.
It is especially valuable sculpture expressing the peaceful and moderate style of late Heian Period.