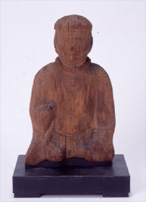 Summary
Statue Height  29.5 cm
Wooden, Japanese Judas tree, single wood-block sculpture.
Chogan technique (Eyes carved directly into the surface of a wooden sculpture) was used and showing the natural wood base.
It has a crown and a Buddhist robe. Left arm rested gently on the knee and lifted and bent the right one. The wrists of both hands are missing.
It presumed to be the work of late Heian Period, and it is the one of old statues of God remained in Motsu-ji.