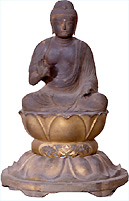 | | |
| --- | --- |
| Designation | Prefecturally-Designated |
| Classification | Sculpture |
| Designated Date | April 26, 1977 |
| Amount | 1 |
| Address | Aza-Osawa, Hiraizumi |
| Holder | Hakuou-in |
| Retainer | |
| Administrator | |
| HomePage | Hiraizumi's Cultural Heritage |
Summary
Statue Height 21.5 cm
Wooden, white cedar, joined wood-block sculpture.
It express the welcoming Mudra, the forefinger, middle finger are joined to the thumb; it is formed with both hands, with the right hand raised and the left hand rested on the knee.
The body part is single wood-block, and the both elbows and front knees are compensated later. It was made of late Heian period, and believed to be the work of Unkei, a famous Buddhist sculpture.
The original existing parts are only the head, the face and the main body. However, it is the precious and valuable example of late Heian period.