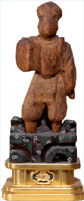 | | |
| --- | --- |
| Designation | Prefecturally-Designated |
| Classification | Sculpture |
| Designated Date | April 26, 1977 |
| Amount | 1 |
| Address | Aza-Osawa, Hiraizumi |
| Holder | Houseki-in |
| Retainer | |
| Administrator | |
| HomePage | Hiraizumi's Cultural Heritage |
Summary
Statue Height 31.0 cm
Wooden, white cedar, single wood-block sculpture.
Wearing a hat and a ceremonial male skirt tied just under the knees.
The right arm is bent and the left one is pendent, the right leg is bent and expressing of walking style.
The defacement of the sculpture especially on face and whole body is severe and the both wrists and feet are missing.
It is said to be the work of late Heian period, but presumably far later than the record inscription "Inari" on the back of right thigh.
The main Hall of Hoseki-in is also called "Inari-Shrine", it has been worshipped as the principal image of Shinto deity as "Inari-Daimyojin".
It is very valuable as an old image of deity, and is the oldest "Den-Inari-shin God" in Iwate.