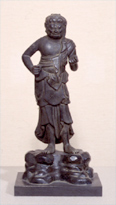 | | |
| --- | --- |
| Designation | Prefecturally-Designated |
| Classification | Sculpture |
| Designated Date | April 26, 1977 |
| Amount | 1 |
| Address | Aza-Osawa, Hiraizumi |
| Holder | Jumyo-in |
| Retainer | |
| Administrator | |
| HomePage | Hiraizumi's Cultural Heritage |
Summary
The main part of the body is casting, some plaster and iron core remained inside.
The both hands joined together with dovetail tenon on the shoulder.
Curly hair and Benpatsu(a long rope of hair hanging down the left side of the face and the left shoulder) with topknot on the head, with Tenchi-gan (a facial expression: the right eye is wide open looking upwards, and the left eye is half closed looking down to the earth),  top and bottom fangs are stuck out, wearing a decorative scarf, ancient skirt and loincloth.
The left arm holds a rope totie up evil spirits, the right arm holds a sarcred sword (missing) and hanging down on the side, and twisted at the waist and standing with both legs open.
The left arm (below shoulder), holding object and the rope are also added later. The rock-shaped pedestal is wooden and colored (added later). It is the work of Kamakura Period, and it is the favorable remain among the gild bronze small Fudomyo statues in the same period.