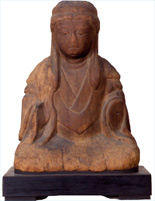 | | |
| --- | --- |
| Designation | Prefecturally-Designated |
| Classification | Sculpture |
| Designated Date | April 26, 1977 |
| Amount | 1 |
| Address | Aza-Osawa, Hiraizumi |
| Holder | Kongo-in |
| Retainer | |
| Administrator | |
| HomePage | Hiraizumi's Cultural Heritage |
Summary
Statue Height  39.5cm

Wooden, Japanese Judas tree, single wood-block sculpture, with Chogan technique (Eyes carved directly into the surface of a wooden sculpture), and showing the natural wood base.
It shows a feature of a Goddess, tied the bow on the head and the strings are hanging down behind the ears to cover the shoulders. Seated with bent arms, wearing a robe with wide sleeves.
This is enshrined as the sacred object of Kumano Shrine.
It is a work of late Heian Period, and also the valuable asset to show the traditional style in the same period.
It is also the precious example of Goddess feature in Iwate.