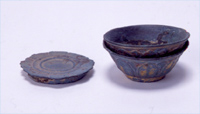 | | |
| --- | --- |
| Designation | Prefecturally-Designated |
| Classification | Arts and Crafts |
| Designated Date | April 4, 1978 |
| Amount | 1 |
| Address | Aza-Osawa,Hiraizumi |
| Holder | Motsu-ji |
| Retainer | |
| Administrator | |
| HomePage | Hiraizumi's Cultural Heritage |
Summary
2 Metal bowl
1 Serving dish
The bowl:
Height 2.1cm
Diameter 5.4cm
Height of the base 0.35cm
Dimeter of the base 2.6cm

Serving dish: Height 0.6cm
Diameter(remain part) 4.8cm
Height of the base 0.4cm
Dimeter of the base 3.8cm
These are thick-gilded bronze objects.
They are small, thin and have carving of eight simple-petaled lotus leafon the sides.
Two bowls are rusted and stuck together.
The both, molds and decorative patterns are graceful, thick-gilded and shining out through the rusted part.
It is the work of late Heian period, and the excellent remain of the alter paraphernalia in this period.