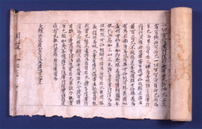 | | |
| --- | --- |
| Designation | Prefecturally-Designated |
| Classification | Scripture |
| Designated Date | April 26, 1977 |
| Amount | 1 |
| Address | Aza-Osawa, Hiraizumi |
| Holder | Daijo-in |
| Retainer | |
| Administrator | |
| HomePage | Hiraizumi's Cultural Heritage |
Summary
It is a scroll book used jute paper, each line with 17 characters, and the first two pages are missing. The end of the scroll, there is a postscript of June 22, 1364.
The year of 1364 was the year of Southern Dynasty Seihei 19th year.
It is different from the other Chuson-ji-kyo Sutra, and the style of hand-copy has been varied across the ages.
It is a very valuable manuscript to know the transition style of hand-copied sutra and it can be said as the representative example in medieval times.