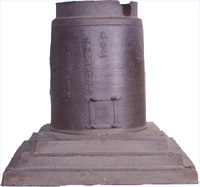 | | |
| --- | --- |
| Designation | Prefecturally-Designated |
| Classification | Archaeological sample |
| Designated Date | July 25, 1956 |
| Building | 1 |
| Address | Aza-Hanadate, Hiraizumi |
| Holder | Senju-in |
| Retainer | |
| Administrator | |
| HomePage | Hiraizumi's Cultural Heritage |
Summary
Height : 89.4cm
It is an iron casting Houkyo-in pagoda, enshrined in the island of Tsuruike-pond of Kanjizai-o-in in 1355. At present, a finial on the pagoda(nine-tiered pagoda), and kasa part (a top story) are missing. The cylindrically-shaped main part and the lotus base are remained.
According to the inscription, 66 of Lotus Sutra is kept inside, and it is said to be the offering of Koken, Gonritsushi(a high priest), wishing for the salvation of all living creatures around the world.
It is the very precious relic in religious history, with many kanji variants. Furthermore, it is quite unique and valuable as Kinseki-bun, ancient inscriptions on monuments.