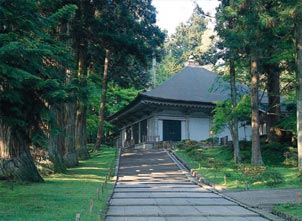 Chusonji Golden Hall
Kiyohira Fujiwara, who set up his residence in Eisai-gun Toyoda-kan (Oyshu-city) to Hirai-zumi (Iwaii-gun), was active against the backdrop of the national authority of Kofu. Embark on territorial management. At that time, new districts such as Hui, Kuji and Nukanobu were established in the east and north of Okuroku-gun, and the northern part of Dewa became the jurisdiction of Mutsu and Shikado and Yui. (Hinari) county was placed, and Aomori prefecture was set up in the Ayabe county area in the eastern part, and Tsugaru Moro district in the west. A person who knew the facts of the region was essential to the management of the northern side, which was under the rule of the court until the northernmost tip of Honshu. The substantive control area of Qing Seng has been almost all over the present Aomori, Iwate and Akita prefectures.
Having acquired huge assets and power, Seung-Huan (1126) gathered 1,500 monks in Chuson-ji Temple and ran a large-scale law association. It is a raccoon bill of Chusonji Daisuke.