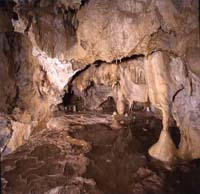 Longquan Shindong Remains
Enter the town of Morioka and leave the new grain town Xiamen to enter Ashiya town. In Ashiya-cho, the width is almost the same as in the past, leaving an impression.
The indicators of the Jomon period are at the pottery and the bow and arrow.
The oldest pottery in the prefecture is the round bottom wind of the late sowing period (before about 10,000 years) with a claw-shaped pattern on the surface of the Taishoncho Morioka City (Daishincho) ruins and Iwaizumicho Ryusen Shindong ruins excavated In the case of Daishinmachi ruins, it is a stone shape for polishing stone stems of arrowheads or straightening them. Stone tools such as ") are excavated together. This can be said to be proof that it used bow and arrow.
In the early days (about 6,000 years ago), when settlements where burial-style dwellings will be created appear, settlement is promoted in the first half (before about 5000 years), and more than 100 residence marks, large storage holes, graveyards etc. In the middle period (about 4,000 years ago), the "annular settlement" where the pillars and large dwellings, tombs, storage holes, etc. are arranged concentrically appears in the middle period (before about 4,000 years). The Kamegaoka culture (the wooden town Kamegaoka ruins in Aomori prefecture) is in the late period (before about 2300 years) when various kinds of magic and ritual artifacts increase, and ritual remains such as cyclic archstones (stone circles) are seen. The earthly pottery is known for its exquisite beautiful patterns and a variety of pottery culture, which is typified by earthen pottery), and the rich and various kinds of pottery and clay pots are excavated.