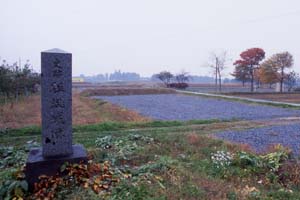 Sakaueadamura Maro (Sakane no Ue no Maramura), who went to Giwazawa (now Oshu City, Iwate Prefecture) as an enthusiasm for the first time in enlightenment 21 (802), took on the construction of Izawa Castle. You At the same time, they started to create a control system in the surrounding area, and it is thought that "Gizawa Sangun" of Iwai, Esashi and Ginzawa was established in Enoki 23 (804). Mutsu National Guard Division is moved from Kofu Tagajo in dai 3 (808) years, and "Chison Guard Gorizawa Castle" is established.
Giruzawa Castle is an outer line defined by a 675-meter-long (one with a side of a square) and a 675-meter-long site (the roof was laid on the ground. In the old days, it was only a build-up and consolidation of the soil) , It consists of the government office area divided by Ogaki of 90 meters towards the inside. There was a 5 m wide gutter on the outer circumference, and a 3 m inner gutter on the inner circumference, with gates on each side of the Tsukiji.
Tamura Maro, who built Giruzawa Castle, further moved north, and next year in the year 22 (803), near the confluence of Kitakami River and Takiishikawa (now Morioka City), Tohoku's largest class comparable to the national city of Tagajo 840 meters. We build castle fence, Shiha castle (kiwajo). In Wakahito 2 (811), "Shiwa Sangun" of Waga, Hianui and Shiwa is lined up, and here, the ruling area "Sangun of the Ritsudate period" was decided. However, Shiba Castle continued to be plagued by flood damage, and it became difficult to maintain the castle fence, and when Tokutanjo (Tokutanjo) was built in Hirohito 3 (812), 10 km south of Shiwa Castle, in the current Yahata town, its politics Functional functions to Tokutanjo. The function of Tokutan Castle decreased in less than half a century, and after this, the administration right of Shiwa Sangun northward will be consolidated as the "Junefu 6".
As the central political system changes from the Ritsuryo state to the dynasty state in the 10th century, there will be changes in the six guard provinces. The area of Shiba-gun is south-shifted, and Iwate-gun including Shiba-gun is established to the north of that area, while Aoi-gun is incorporated into the Kofu Tagajo territory. In this way, "Okuroku-gun" of Iwate, Shiwa (wrinkle), Hijiriuki (hienuki), Waga (Waga), Esashi, Izawa (Isawa) was established.