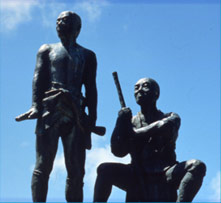 One-eyed statue (Tanobata village)
Morioka Samurai's finances are from the Shogunate, such as the martyrdom, the treasure calendar, the Tenmei, the Tenpo's four-year-old mischief, the decline in income due to the conversion of mine management from gold mine to copper mine, Oigawa renovation and Nikko Yamamotobo renovation, etc. Are frequently exhausted, due to increased demand for more than 200,000 stones, increased burdens for more than 200,000 stones, and so on. And forced the burden on farmers. It is said that this is the cause of becoming one of the "one-of-a-kind frequent incidents" of about 140 cases throughout the republic.
In particular, a group that originated from Noda Doriyasu Village (Akamura, Iwaizumi-cho), which started with the opposition to the collection of 60,000 royalties in 1847, involved thousands of thousands of villages in the surrounding area. The scale of the person swelled. It gathers in Owakino (Ooshino, Tanohata village), Omoto (Omoto, Iwaizumicho), Taro (Taro, Miyako city), Miyako, Yamada, Oisochi (Oochi) and south, Kuribayashi village ( When we joined one boat in Kamaishi city and reached Tono, it reached 12,000 people. This is a farmhouse of Sanshuii (Sanhei, Noda, Miyako, Otsuchi's three) who sued Tono for the reform of the administration, and the effort of the Tono lord did not put out a single person to be expelled, and requested 25 articles. Of the 12 successful submissions.
When Yoshinaga 6 (1853) is forced to collect the wages again, the farmers of Tanohata, Raga (Raga, Tanohata Village), Fushiro, Kurosaki (Fushiro Village) talk to each other, and this is Numabag (Tanohata Village). Farmers of Hamaiwasen (Iwaizumicho) rallied, and simultaneous uprising occurred. When one group who started south south while getting involved in the village reached Kamaishi, it became the largest group that reached up to 16,000 people, and it transcended the environment, and it went to Tandan village Go to Gunto nimura and Kamaishi city). This group called for the resignation of Lord Morioka and the reform of the administration, and if it does not, it is for requesting the Makui government or Sendai concession, and without giving up the disposer, replacement of the leader and the demand item 49 We succeeded in getting 39 of the Kasho accepted.