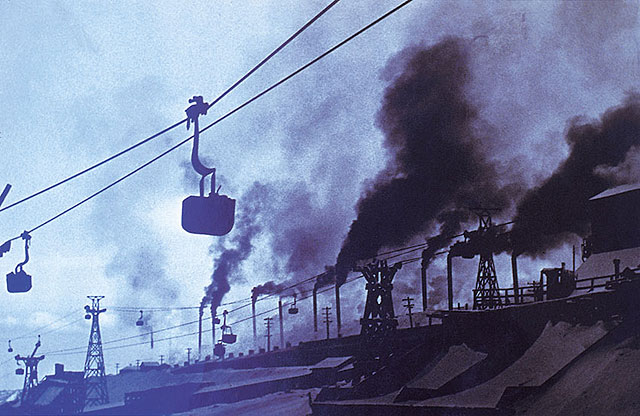 Old mine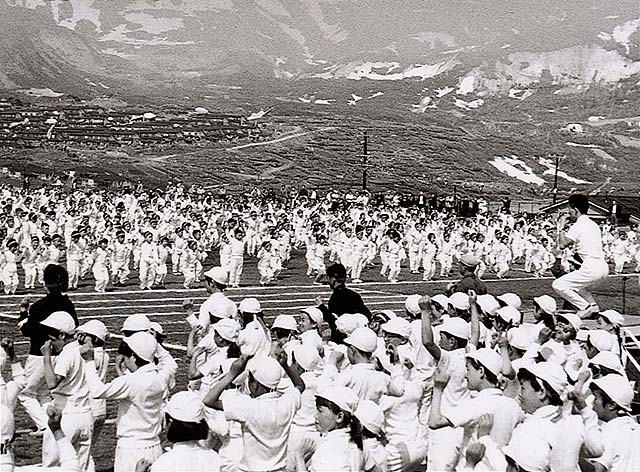 Elementary school athletic meet scenery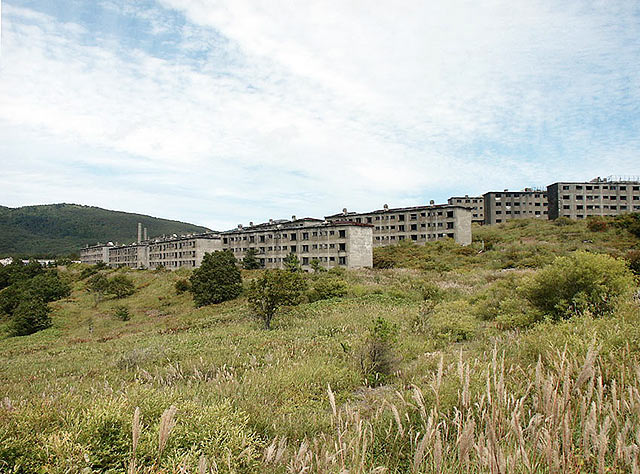 Greengaoka apartment trace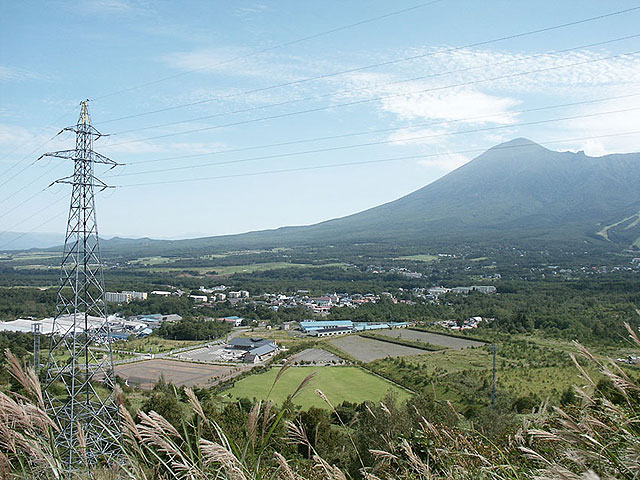 The current Yudai district
Matsuo Mine
In the Matsuo Mine where the outcrop (Roto) was discovered around 1882 (1882), a prospectus was issued in 1888, and while mining rights were changing, open pits and raccoon dogs were excavated (a deposit from ground to basement How to mine while following the Taisho 3 (1914) Matsuo Mining Co., Ltd. was established in earnest to start mining and refining sulfur in earnest, from 1921 (1921) also started mining of sulphide ore, began digging around the end of Taisho It has grown into a major sulfur mine that produces about half of its demand. Production volume soared in the Showa 10's, and it will grow to be called "Toyo Ichigo's Sulfur Mine," which accounts for about 80% of domestic demand. The number of employees has also increased from 352 in 1916, to 2,213 in 1936, 20 years from now. At the peak of production, about 100,000 tons of refined sulfur (Showa 42) and 680,000 tons of iron sulfide ore (Showa 41) were produced, but it was pushed by recovered sulfur produced at the time of petroleum refining, and in 1972 (1972) It became an abandoned mountain.

In addition, Matsuo Mine Railway Co., Ltd. was established for the transportation of sulfur and the import of daily goods in 1973. Initially, it was about 7 kilometers hand-tracked track between the foothold residence (Hachimantai Shishidai) and Nitta, but in the following year Nishine Town Daisaku connected to JNR (now JR) garland line, power also used carriage Converted to a gasoline car (Taisho 5). Started sales as a dedicated railway in 1934 (1934) and introduced a steam locomotive, started transportation business from 1948 (1948), realized electrification in 1951 (1951), Ueno Direct ski trains from the station to Higashi-Hachimantai Station (Yashidai) were also conducted. It was abolished in October 1972 with the closure of the Matsuo Mine.

Along with the prosperity of the Matsuo mine, a new town is created on the residence base and the mining area of about 1,000 meters above sea level (Motoyama, Midorigaoka, Hachimantai city).・ It is called "Kunen no paradise" complete with junior high and high school, post office, hall, etc., and the population of 4,500 employees and Yama reached 13,000.

The Matsuo Mine also has a negative side of the "minor poisoning incident". At the Matsuo Mine, the mineral poison water surfaced in the late Taisho period, and when it entered Showa, it was instructed by the Sendai Mine Supervision Bureau to start processing such as pouring of lime, but in 1932 Hachimantai City) A petition for the governor is submitted by the residents. The damage reached the Kitakami River basin south of Morioka in 1933 (1933), and a motion to demand compensation took place in various places, and it was taken up by the mass media etc. and became a social problem. Measures will be taken such as starting work to switch Akagawa irrigation water to another water source from 1936 (1936), and the mine will continue to pay a large amount of compensation until the completion of the Matsukawa Canal in 1948 (1948). The outflow of mineral poison water continues, and the treatment is continuing at the neutralization treatment facility.