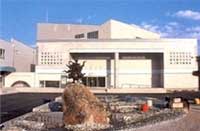 Management organization
Ichinoseki
Opening date
April 1998
Number of seats
Large hall: 514 seats
Opening time
Reception hours / 8:30 to 17:15 (However, closed days will not be accepted.)
closing day
December 29-January 3 next year
Attached facilities
location
〒 029-3405
Ichinoseki City Fujisawa Town Fujisawa Character Ingo 12-5
contact information
Tel: 0191-63-5515
Fax: 0191-63-5517
home page
Fujisawa area facility guidance (Ichineki city)
Facility Equipment Details
Fee for use
For halls and dressing rooms, the rates for weekdays, Saturdays, Sundays and holidays vary depending on the time of use. (Hall: 4,800 yen to 44,000 yen, dressing room: 300 yen to 1,100 yen)
Usage fee varies depending on the presence of admission fee.
Air conditioning fee 2,000 yen per hour
There is a fee for each attached facility.
※ Please inquire directly at the time of use application.