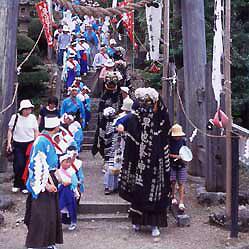 name
Hayaikemine Shrine Example Festival (Hayachi Nejirejisaisaisai)
Venue
Hanasaki-shi, Osako-cho Uchikawame
Opening period
July 31 Sugamiya / August 1 大大 大 奉
contact information
Hanamaki City Osako General Office
tel: 0198-48-2111
Summary of the festival
A pass of the gods, a street of about 40 Gongens led by Yamabushi who blows on the shellfish, a performance of Kagura by Doji and others, and walk along the road in a long line. On the eve, at Kagura-den, Mt. Yu, and the accompaniment Kagura are dedicated for six hours. August 1st Festival, July 31 Shinomiya. The main shrine was designated as a tangible cultural property of the prefecture in 1972.
Origin / origin of the festival
The Hayaikemine Shrine began in 1975 when Daibo 2 years (807), when the Fujiwara Hanbu Gosei Seibo built a temple on the summit of the Hayaike Mine, and has since become the center of the Hayaikemine mountain faith. After that, there were frequent fires, and the present building was erected in 1612 under the protection of the Southern Tominoku.
Traffic access
About 45 minutes by car from Tohoku Expressway Hanamaki IC, about 27 minutes by bus from JR Ishitogaya Station, and about 25 minutes by car from Hanamaki Station