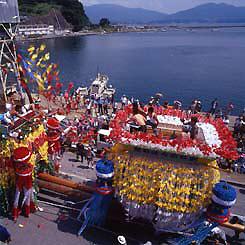 name
Kesen-cho Kenka Tanabata Festival
Venue
Rikuzentakata City Kesen-cho
Opening period
August 7
contact information
Rikuzentakata City Tourism Association
tel: 0192-54-5011
Summary of the festival
The young people get on the floats and walk around with chopsticks and drumsticks. An exciting festival in which a thick wisteria cut out of a mountain is attached to a cedar's log with a float, and the float and the float are hit. In the middle of the day at Nagabe Fishing Port and in the evening at Imaizumi-cho, they meet. Prefecture designated intangible folk cultural property. Noon part head part fishing port front start 10:00 ... night part Yokamachi street start 19:30 ....
Origin / origin of the festival
The festival boasts a 900-year tradition that is said to have been passed down by the fallen family members of the Heike.
Traffic access