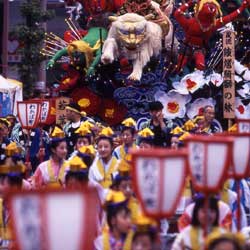 name
Hanamaki Festival (Hanamaki Festival)
Venue
Hanamaki
Opening period
Friday, Saturday, Sunday with the 2nd Saturday of September as the middle day
contact information
Hanamaki Tourism Association
tel: 0198-24-2111
watch video
Summary of the festival
Ten or more luxurious floats from each town walk through the city while playing "Hanamaki Bayashi". This dumpling of large drums, small drums, koto and shamisen incorporates the Gion festival gyoza. In addition to the floats, over 100 barrel shrines are served, and about 30 groups of local performing arts also participate in deer dance and kagura gokoku dance.
Origin / origin of the festival
It is said that the beginning of the town of Hanamaki, a townman of Hanamaki, made a float in honor of Hanamaki-jo, Kitamatsusai, the founder of Hanamaki-kai, and walked through the town.
Traffic access
About 10 minutes by car from Tohoku Expressway Hanamaki Minami IC. 5 minutes by car from JR Tsuchizawa Station. 20 minutes by car from JR Shinhanamaki Station.