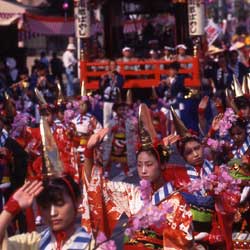 name
Tono Festival (Tono Festival)
Venue
Tono City Matsuzakicho
Opening period
September 14-15
contact information
Tono City Tourism Association
tel: 0198-62-1333
watch video
Summary of the festival
Various local performing arts are played at the annual festival of Hachimangu. "Nanbu Bayashi" was a long time ago that Nanae Naoue imitated Gion Ayako and made it a street artist to incorporate regional features. The Tono Shizushi dance, the Taplant dance, the Sansa dance, and the Kagura are also danced, and the shrine is delivered, and the Yabusame is dedicated in the 120m (220 m) Baba in the Hachimangu shrine grounds.
Origin / origin of the festival
Tono Hachimangu Shrine is the foundation of the Kamakura period and the largest festival of Tono since ancient times. In particular, Yabusame is also in the "Hokutojiojiki" and says "There is a section to go to Negimura, a section to go to Hachiman, and a place to go to the Baba" ... It is.
Traffic access
About 60 minutes by car from Kitakami Ezuriko IC on the Tohoku Expressway and 10 minutes by bus from JR Tono Station