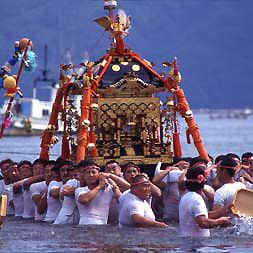 name
Yamada Hachiman Shrine Festival ・ Osugi Shrine Festival (Yayama Hachimangu Sasai / Ooushi Shinjasasai)
Venue
Yamada
Opening period
September 14-15
contact information
Yamada-cho Fisheries & Industry Division
tel: 0193-82-3111
Summary of the festival
The 14th is a two-day festival called Yamada Hachimangu shrine annual festival and the 15th is Osugi Shrine annual festival. The main attraction is a wild boar Shinto running around the town. On the second day of the Osugi Shrine, Kamisu is a powerful festival where you can travel to Yamada Bay and then board a boat to visit Myojin Kanzaki.
Origin / origin of the festival
There was a case in which a wandering master was killed in the year of the ephemeral year, and it became unsettled thereafter. He made a bribe to comfort the ghost and made it a god of fishing. This is Osugi Shrine. Since then, it has become a festival for maritime safety and large fishing.
Traffic access
About 150 minutes by car from Tohoku Expressway Morioka Minami IC. About 15 minutes on foot from JR Yamada Station.