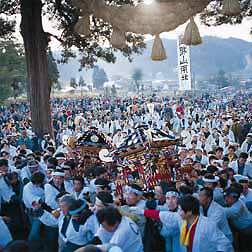 name
Murone Shrine and Murone Festival (Murone Festival)
Venue
Ichinoseki City Murone Town
Opening period
Year after the old calendar year, old September 17-19
contact information
Murone Village Tourism Association
tel: 0191-64-2111
Summary of the festival
From the main shrine and two Shingu shrines, a shrine dedicated to the deity of the deity is defended by a landslide of 600 people and competes for the first arrival to Shimoyama and the temporary shrine in the village. The Otaki procession dedicated to the Holy Spirit is spectacular and highly folklore, and has been designated as a National Important Intangible Folk Cultural Property.
Origin / origin of the festival
Murone Shrine has two companies, Motomiya and Shingu. The main shrine is the Yoro 2 (718) year, when the guardian of the General Shogun Tono Ono received the honor of the former Emperor Masayoshi, and called for Kumano Gongen of Kishu Hongumura as a place of prayer for the surrender of the samurai. Shingu was a sumo wrestler in the sumo wrestler's office of Kiiwa Shinsei who recruited the gods of Kumano Shrine from Kishu Shingumura as a guardian of Owana-gun (Saoi, Esashi, Gishizawa, Kesen, Kesen, Honkichi, Tome, Shizuka). It is. It is also said that Sakaueda village Maro, Gen Yoriyoshi and his parents, and Gen Yoshitsune also visited the Murone Shrine. The Murone Festival is the year following the leap year as a special festival for shrines. It was derived from the fact that it was September 19 of the lunar calendar on September 19 that it solicited the spirits to Murone Shrine, which was the year following the leap year.
Traffic access
About 60 minutes by car from Tohoku Expressway Ichinoseki IC and 20 minutes by car from JR Origami Station