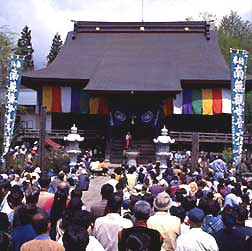 | | |
| --- | --- |
| name | Tendaiji Temple Great Festival |
| Venue | Jyotojicho Tendaiji Temple in Ninohe City |
| Opening period | May 5 Spring Festival, October 5 Fall Festival |
Summary of the festival
The envy procession of men who put the paper of the triangle on the head continues. This burial row with a distinctive atmosphere is something that is chased by Yoshino and fled to the waterways Michinoku and sank at Tendai-ji Temple. Turn around three times. Above all, the law story of the Setouchi 寂 hearing-occupier is popular. The event of giving memorial goods to visitors from the farthest and people of the oldest after the tale is also a regular event. There are also soba made locally, and you can enjoy various events such as Kagura and dance.
Origin / origin of the festival
A festival at Tendai-ji Temple that has long been known as "Oyamasari". The feature item "Mikoshi Goto" is said to imitate the funeral of Emperor Chokei.
Traffic access
25 minutes by car from JR Ninohe Station