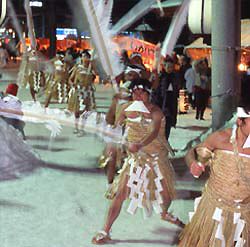 name
Nude (Hadakami)
Venue
Morioka
Opening period
January 14.15.26
contact information
Morioka Tourism Association
tel: 019-621-8800
Summary of the festival
The men who put on a blazing head, white headband on their head, a long rope attached to their waist, and bare feet on barefoot, put paper in their mouths in their mouths and walked through the streets of such a deep winter. The figure that makes the bell in hand sound like "shan, shan" and makes a step forward is a thing that has been passed on without change even after hundreds of years.
On 14th we visit the Jozan Jyozan, on 15th we will visit Morioka Hachimangu Shrine and on 26th we will visit Sakurayama Shrine.
Origin / origin of the festival
It is a New Year's event to pray for no illness and good year, which has been continued since the Shosei period.
Traffic access
About 20 minutes by car from Tohoku Expressway Morioka IC ・ About 10 minutes by car from JR Morioka Station