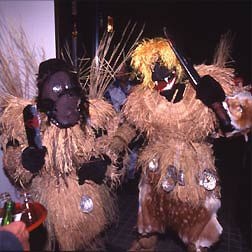 name
Suneka (Shineka)
Venue
Ofunato City Sanriku-cho
Opening period
January 15
contact information
Ofunato City Office General Affairs Department Yoshihama area branch office
tel: 0192-45-2001
Summary of the festival
The people in the Yoshihama district wear a demon-like face, wear a helmet, hold Kiriha in their hands, and roam the houses to scold the lazy. It is held as an event of the lunar new year with the arrival of the new year.
Origin / origin of the festival
Suneka is said to be the origin of the word "slap skin" when it comes to peeling a snail that can only be done at the fireside, and it comes to punish lazy children and children who do not listen to their parents It is said that it is a terrifying thing that can not be acquired.
Traffic access
About 140 minutes by car from the Tohoku Expressway Mizusawa IC · Get off at Sanriku Railway Yoshihama Station