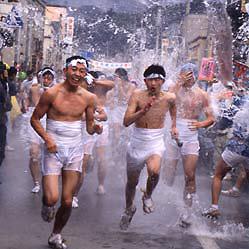 name
Daito Ohara Water Festival (Daito Oharami Mizukake Festival)
Venue
Ichinoseki City Daitocho Ohara
Opening period
February 11
contact information
Ichinoseki City Daito Branch Industrial Economy Section
tel: 0191-72-2111
Summary of the festival
It is a strange festival where men of the evil year run through the town nakedly, and people wait with their spears, and flood the men with the wish of the evil spirit.
There is a rule that women should not hang water, because this festival is derived from the Edo-Kisode fire of the 3rd year (1657) of the dawn and is for praying for fire protection, no illness, and family safety It is because the wind that a woman's kimono rose up was disliked to call a fire.
Origin / origin of the festival
It is reported that this day, when the castle tower of Edo Castle was destroyed in 1657, was set as the absurd day, and it started as a festival that served both as a prayer for fire prevention and a fire prevention promotion. In the later years, the meaning of misery has been added, and in recent years the number of participants for fulfilling various applications has also increased.
Traffic access
About 40 minutes by car from Tohoku Expressway Ichinoseki IC and about 20 minutes by car from JR Surisawa Station