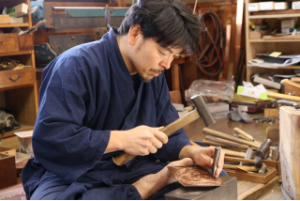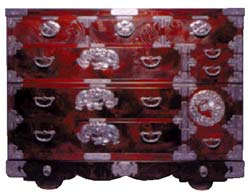 Main production area
Oshu
Overview
Iwatani Doan is mainly made of rattan and rattan, and is characterized by beautiful wood grain, heavy lacquer, and brilliant hand-carved metal fittings. The luster of lacquer and metal fittings glows more deeply as the years go by, and it strongly appeals its existence in the interior of a modern style as well as the traditional Japanese space. "Iwataya-do kuraina" series made on concept of "Japanese modern" making use of material of craftsman and craftsmanship is popular as gift and souvenir.
History / History
It is said that in the late 18th century, Iwatani-do castle lord and Iwashiro-mura general attempted to break away from the economy relying solely on rice and researched the commercialization of woodwork products. In the early Showa 40's, the exhibition in a department store in Tokyo was used as an opportunity to develop demand in the metropolitan area, and recorded the highest sales amount in 1997. We receive designation of traditional craft of country in March, 1982 and work on succession of technology and upbringing of successor.
how to use
Avoid direct sunlight and stoves, please put in a well-ventilated place. Clean with a dry cloth and do not use chemical wipes.
Main products
Organized closet, costume closet, standing closet, horizontal closet, stair closet, car closet, cabinet, chest, sideboard, cupboard, cabinet, altar, altar, TV board etc.
Manufacturing process
Wood cutting → woodworking → assembling → lacquering → fitting mounting → total finishing
contact information
Iwatani Dou production cooperative
〒023-1131
Iwate Prefecture Oshu-shi Esashi-ku Ehimeji Ebishima 68-1
TEL0197-35-0275