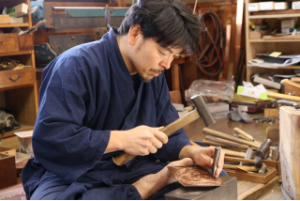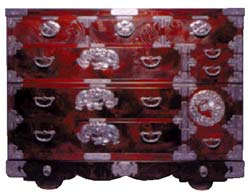 Main production area
Morioka City, Oshu City
Overview
Iwayado Tansu is mainly made of paulownia and zelkova, and features beautiful wood grain, heavy lacquering, and splendid and gorgeous hand-carved hardware. The luster of lacquer and metal fittings shines deeper as the years pass, and strongly appeals not only in traditional Japanese spaces but also in modern-style rooms. The "Iwayado Kurashina" series, made with the concept of "Japanese modernity" utilizing the materials of the chest and the skills of craftsmen, is popular as a gift or souvenir.
History / History
It is said that in the latter half of the 18th century, the main owner of the castle, Iwatani Mura, at the time was trying to break away from the economy that relied solely on rice and studied the commercialization of wood products. In the early 1960s, an exhibition at a department store in Tokyo triggered the development of demand in the Tokyo metropolitan area, and recorded the highest sales in 1997. In March 1982, we received designation as a traditional craft of the country and worked on the succession of technology and the development of successors.
how to use
Avoid direct sunlight and stove, please put in a well-ventilated place. Brush with a dry cloth and do not use chemical rags when cleaning.
Main products
Organizing closet, costume closet, vertical closet, horizontal closet, staircase closet, car closet, cabinet, chest, sideboard, cupboard, display shelf, Buddhist altar, TV board, etc.
Manufacturing process
Wood removal → wood processing → assembly → lacquer painting → metal fittings → total finishing
contact information
Iwayado Tansu Production Cooperative
〒023-1113
68-1 Ebijima, Atago, Esashi-ku, Oshu-shi, Iwate Prefecture
TEL0197-35-0275