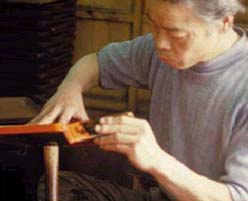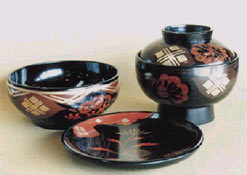 Main production area
Morioka City, Hanamaki City, Ichinoseki City, Oshu City, Takizawa City, Hiraizumi Town
Overview
We dry and process trees such as Tochi and Zelkova, which are the materials according to the application. Harden the finished wooden base with raw lacquer, put a cloth on the weak part and harden it with lacquer to make the foundation. Apply primer, middle coat, top coat, draw a cloud pattern, place a gold foil just before the pattern is dried, and finish by putting an outline on the outside of the cloud.
History / History
Hui Sheng Buri has flourished in Hiraizumi, and originated from Mr. Oshu Fujiwara, who brought Buddhist art such as Chusonji Golden Hall to this place. Although the history after the fall of Mr. Fujiwara is unclear, from the late Edo period, a producing area was formed in Iikawa-mura (now Oshu City) next to Hiraizumi-cho, and it reached Showa. With the construction of the Igawa dam in 1955, it is widely divided in the prefecture south and is still produced.
how to use
When washing, avoid boiling water and wash with soapy water and wipe with a soft cloth. Don't use the iron and sponge like ones, and avoid washing with polish powder (cleansers etc.).
Avoid direct sunlight as it may be deformed or discolored if exposed to sunlight. After use, do not leave it in warm water for a long time, immediately wash it off, wipe it with a soft cloth (without grit), and wipe it with a dry cloth. A microwave and dishwasher can not be used.
Main products
Soup bowl, bowl, bowl, sucker, tray etc
Manufacturing process
Summer tree → water immersion → Araki removing → drying → Kiji 挽 → wood base → wood cement → engraving → laying down → clothing → basement → emptying → chip subdivision → rusting → rusting cloth → priming → base coating → middle coat → middle coat sharpening → top coat → foil place → finish
contact information
Shichiya
Hiraizumi-cho Hiraizumi-cho 1-7-1 Nishioi-gun, Iwate Prefecture
TEL 0191-46-2306
Maruzan Lacquerware
〒 029-0503
Iwate Prefecture Ichinoseki City Daito Surizawa character Tajimazaki 10
TEL 0191-75-3153