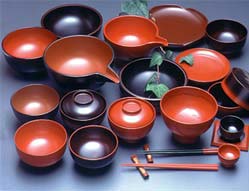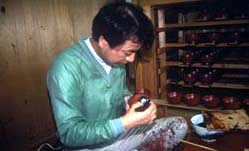 Main production area
Morioka City, Hachimantai City, Ninohe City, Takizawa City
Overview
In order to maximize the moist texture of lacquer and the warm texture and deep gloss, it has a finish that suppresses the gloss of plain solid black and black reservoir.
The simple and easy-to-use design is perfect for everyday use.
History / History
It is said that a monk made the fixtures of a temple at Tendai-ji Temple, Ninohe City, which has a history of about 1200 years. In the Edo period, Shonai became an important product, so that it was actively exported to other groups from the original. It has declined since then, but has been in the spotlight again in recent years.
In addition, Ninohe Jojojicho is one of the country's leading production sites for raw lacquer and produces about 70% of domestic lacquer. The transfer of lacquer technology is also an important issue.
how to use
If you wash it with pottery etc., it will be scratched and damage the coating. Please avoid as much as possible. Discoloring and promoting deterioration if exposed to sunlight for a long time. A microwave and dishwasher can not be used.
Main products
Soup bowl, bowl, plate, etc.
Manufacturing process
Hardening → Polishing → Painting → Polishing (Painting → Polishing Repeated 7 to 8 times) → Finishing
contact information
Iwate Urushi lacquer cooperative (Urumi Craft)
Nishikigawa 1-chome 18-13 Morioka, Iwate Prefecture 020-0124
TEL 019-641-1725
Johoji lacquerware craft company association
Shimizu Jiri, Jojojicho, Ninohe City, Iwate Prefecture 028-6951
TEL 0195-38-3028