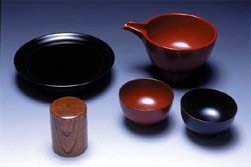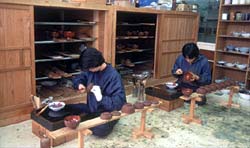 Main production area
Hachimantai
Overview
The woodland of Appi-Nuri is mainly made of Mizume cherry blossoms, Tochi, Zelkova and other vertical ones that are hard to get out of control. The base is characterized by the "lacquer base" applied from the base to the top coat, in particular, the top coat uses domestic lacquer that has been refined in-house, and its vivid color and fastness make full use of the features of domestic lacquer . The young creators who grew up in our studio continue to challenge new craftsmen while taking traditions into consideration.
History / History
Northern Iwate Prefecture, including Hachimantai City, has long been known as one of the leading lacquer producers in Japan. Lacquer collected from here has good transparency and color, and boasts a robust quality with excellent hardness. The Hachimantai Anshiro area has been making lacquerware rooted in life since the Shosei period, making use of the blessed conditions of rich lacquer production areas. Tradition has been temporarily cut off while the times are changing, but at the Appi Lacquerware Studio, with the aim of restoring traditional lacquerware, we are making durable, easy-to-use lacquerware as "Abi-painting" newly adapted to the times. .
how to use
It is manufactured mainly for everyday use vessels and has received high praise for its timeless lacquerware that can be used daily.
Main products
Soup bowl: 5,400 yen (excluding tax) ...
Bowl: 9,800 yen (excluding tax) ...
Buckwheat noodles: 11,600 yen (excluding tax) ...
Tea pot: 9,500 yen (excluding tax) ...
Award calendar
Iwate Industry Festival Special Product Competition Gold Award, Silver Award and many others
Manufacturing process
Wood → wood solid → base process → base coat → middle coat → top coat → product completion
contact information
〒 028-7533
Iwata Prefecture Hachimantai City Kamata 230
TEL 0195-63-1065 FAX 0195-63-1066