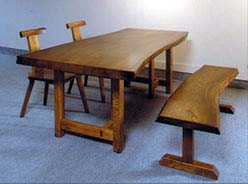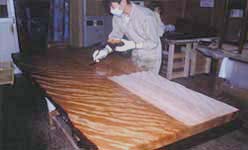 Main production area
Iwaizumi
Overview
"The tree that has lived for 300 years is furniture that can be used for 300 years." According to the management policy, "What kind of tree will I be happy with?" "What kind of person does this person want?" Craft furniture that is always produced with respect to the individuality of "tree" and the intention of "use". We will keep the quality and deliver responsibly by performing lumber, drying, tube, production, lacquering, packing and delivery all the way from prefecture's natural hardwood logs to our company.
History / History
Established in 1975. Started trading with Keio Department Store in 1975. Showroom opened in Morioka city in 1959. Started trading with Nordsk Minami Aoyama 3-chome (Omotesando) in 1990. Started trading with the Mitsukoshi Sendai store in 1997.
how to use
We produce furniture, such as tables, desks, chairs, cupboards, etc. in the favorite wood, upstairs of the entrance of the house, floors, floors, housing materials such as stairs, other souvenirs, crafts, etc. . The main product free table is an excellent product that can be used for dining and tabletops with a single top plate and a pair of legs and sets.
Main products
・ Table: 50,000 to 1,500,000 yen
-Chair: 58,000 to 250,000 yen
・ Tansu: 250,000 to 1,500,000 yen
-Cupboard: 500,000 to 1,600,000 yen
・ Crafts: 1,500 to 30,000 yen
Manufacturing process
Raw wood purchasing → timber → natural drying → artificial drying → curing → tree picking → unevenness removal → sizing → marking → junction processing → assembly → finishing → lacquering · painting → parts installation → completion
contact information
Iwasen Junki Furniture Co., Ltd.
〒 027-0501
Iwasen-cho Iwazumi-cho Katahata 7 in Shimoei, Iwate Prefecture
TEL 0194-22-3302