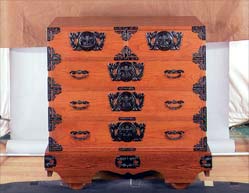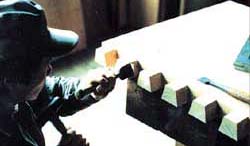 Main production area
Kuchinomura, Ninohe City, Morioka City, Tokyo
Overview
The southern area is a traditional furniture made by artisans, mainly made of eel and wood produced from the mountain area of Iwate Prefecture. Beautiful wood grain of the rose and painting of "Suri-rashi", and hand-painted metal fittings. Each one conveys the spirit and dignity of the artisans who inherit the tradition. It is a piece of furniture that can be harmonized with the modern living space while preserving these traditional techniques and textures.
History / History
Since its establishment in 1955, we are committed to the development of local timber utilization and the transfer of traditional techniques in furniture production and sales. Nanbu Pass is accredited as Iwate Prefecture's designated traditional craft and is sold at department stores and specialty stores across the country.
how to use
As traditional furniture which can be inherited to the next generation, it can be used according to the space of Japanese and Western.
Main products
・ Johoji 2nd Ishime lacquer paint: 383,250 yen (tax included)
-Brazi dining: 840,000 yen (tax included)
・ Tsugaru lacquer bowl: 504,000 yen (tax included) ~
・ Southern wood table: 315,000 yen (tax included) ~
-Southern Craft: 5,250 yen (tax included)-
Award calendar
Governor's Award, Industry Festival Gold Award 2 times, Tohoku Director General's Award, Small and Medium Enterprise Agency's Award, Japan Wood Products Technology Award, Osaka Mayor's Award, Ministry of Labor's Vocational Training Director's Award 3 times, Minister of Labor Award, Craft Design and others 25
Manufacturing process
Raw wood → natural drying → artificial drying → Araki removing → thickness adjustment → plate connection → male and female wax processing → plate assembly → main assembly → lacquering → finishing → metal fitting → inspection → product completion → packing
contact information
Marui modeling furniture industry
〒 028-6502
Iwate Prefecture Kuchinohe-gun Kufuto Mura Ihouchi 11-13
TEL0195-42-3031