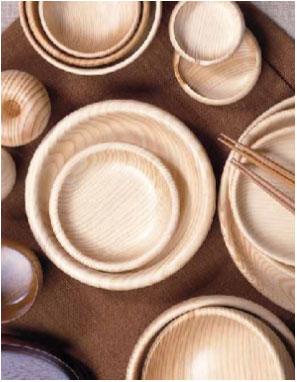 Main production area
Yono-cho
Overview
Ono Kikko is a wooden bowl that the local Rokuro craftsmen made with great effort to rich forest resources such as red pine, tochi, senoki and zelkova. It is popular as a "warmth craft" which is superior in durability and heat resistance due to the beauty of wood using "half split method" and the penetration of prepolymer, and is resistant to oil stains and easy to handle daily. .
History / History
In 1975, utilizing the technology of the local carpenters, the creation of a rich village by "back work crafts" began with "Onomura Haru's Campus 80" from Tohoku Institute of Technology. Wooden dishes such as chopsticks, dishes, and salad balls were made, and "Ono Kikko", which was introduced to school lunches, became known throughout the country. At present, the company is focusing on the production of childcare tableware and has been introduced to childcare facilities throughout the country.
how to use
Ono Koko is excellent in water resistance and heat resistance, can be used as a dishwasher, etc. It is also very easy to handle and is ideal for daily use. It has also been introduced as a school supplies, and it has a good reputation for its practicality as a handicraft that can be tailored to special needs and detailed repairs.
Main products
・ Chopsticks: 2,730 to 4,410 yen
・ Bowl: 3,675-19,950 yen
・ Tray: 1,575 to 10,500 yen
・ School feeding utensils set: 11,424 yen
・ Nursery tableware set: 12,106 yen
Award calendar
1984 Japan Folk Art Association Award · 1984 Iwate Nippo Cultural Award (industry section) · 1989 Iwate Prefecture Governor Award · Heisei Year of Education Ministry of Education Prize
Manufacturing process
Woodworking → Roughing → Drying → Centering → Drying → Finishing → Prepolymer impregnation method → Painting
contact information
General incorporated corporation Ono Furusato public corporation
〒 028-8802
Iwate Ono-cho Ono 58-12-30
TEL 0194-77-3202