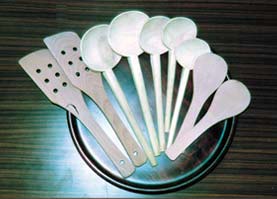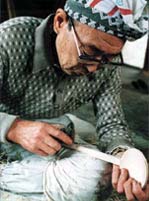 Main production area
Nishiwaga
Overview
Made of natural Japanese oysterwood (Park wood), it has the advantages of gentle warmth, poor heat transfer and no damage to simmered foods. The natural beech wood is hard to reduce because it is hard to reduce, light and easy to use.
History / History
In Sawauchi-mura (now Nishiwaka-cho), which is said to be the village of Matagi, it seems to have been actively created as a side-worker of mountain village farmers. There are only 2 or 3 people currently making it, and it is becoming important to communicate the technology.
how to use
Kisoko: Hot pot and simmered dishes have the advantage of not becoming too hot and not damaging. Hera: It is easy to use because it is light and hard to reduce.
Main products
・ Kyoko: 280 yen ~
-Hera: 300 yen ~
Manufacturing process
Material collection → drying → rough cutting → finish → completion
contact information
Sawauchi Bussan
〒 029-5614
Iwata 10-116-5, Sawauchi, Waka-gun, Waga-gun, Iwate Prefecture
TEL0197-85-2775