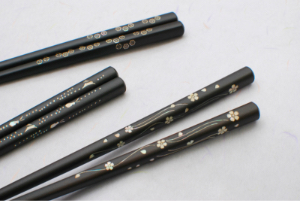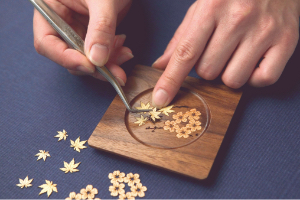 Main production area
Kitakami
Overview
The traditional Japanese technique "Zeikan" is a decoration method in which a pattern is embroidered and shaped. In our dream studio, we express the technique that has been transmitted from the old days as wood inlay (Mokorukan) and shell inlay (Kyazogank), which are embedded with different colors of wood and shells.
We make wooden tableware and Japanese sundries, etc. that you can enjoy in your daily life, while being delicate only by inlaying, with the hands of women one by one.
History / History
Inlaying is a technique of crafting, in which a pattern is carved in metal, wood, or ceramic, and another material is inserted into the hollow. In the Dream Studio, "Kaizokan" is a technique generally called "Ryukan", and "Mokuinkan" is old in Japan, and is called "wood painting" in the Shokakuin treasure. We are developing products by developing the remaining techniques into our own unique techniques.
Main products
Shell inlay
Shell inlay
Wood inlay
Tree inlay teapot
Wood inlaid stand mirror
Award calendar
1998 38th National Recommended Tourism Souvenir Examination Committee Minister of International Trade and Industry Award
2008 Japan Campaign Japan Attractive Japan Gift Contest Australia Award
2008 Iwate Special Products Competition Iwate Industrial Trade Promotion Association President's Award
2009 49th National Recommended Tourism Souvenir Review Board Minister of Economy, Trade and Industry Award
2014 54th whole country recommended sightseeing souvenir examination committee national association of commerce and industry association president's award
Manufacturing process
Lumber → timber → shape processing → sanding → priming → inlaying → final painting → finish
contact information
〒 024-0004
Iwate Prefecture Kitakami City Murazaki 20-70
TEL0197-68-2230