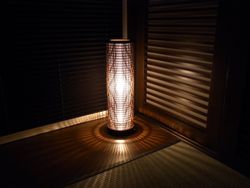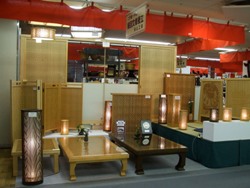 Main production area
Ichinohe
Overview
It is a unique thing that a pattern rises three-dimensionally by combining different color materials. A soft curve was created while using straight material, and it represented a pattern with a rich tone. You can enjoy subtle changes in color tone depending on the viewing position and light conditions. It is recognized as the only thing in the country.
History / History
Since opening in 1984, he specializes in Kushimono. When I learned traditional Kumiko, I wanted to do something unique by myself, and I finished the detailed set by trial and error. In order to make this Kumiko known, it has been exhibited at the Frankfurt Trade Fair and the National Small and Medium Enterprise Trade Fair, and received the Director General of the Small and Medium Enterprise Agency award.
how to use
Shoji is used as a summer shoji. Screens and tables can be used regardless of the season. The light that comes from the warmth of trees and the leaves of Kumiko softens the comfort of the heart.
Main products
・ Screen: 483,000 yen (tax included)
・ 行 燈: 75,600 yen (tax included)
・ Wind stove end wind style: 115,500 yen (tax included)
・ Table: 399,000 yen (tax included)
・ One shoji sheet: 630,000 yen (tax included)
Award calendar
1984 Traditional Craft New Work Exhibition Selected, the same year National Small and Medium Enterprises General Trade Fair Small and Medium Enterprise Agency Prize, Heisei 1st Year Iwate Technology Festival Craft Category Encouragement Prize 4th Asahi Contemporary Craft Award Selected 9th Iwate Prefecture Outstanding Skills Club Same year Iwate Teado Art and crafts exhibition Morioka Mayor Prize · 2007 Master craft of the present age · 2009 Twilight Prize
Manufacturing process
Raw wood → drying → processing → work → finish → product
contact information
Nagayama Craft
〒 028-5311
Iwate Prefecture Futto-gun, Ichinohe-cho Kozenji Temple Ancient Kotohira 37-9
TEL0195-33-3817 0195-33-383
Email spup9969@feel.ocn.ne.jp