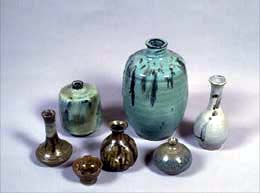 Main production area
Hanamaki
Overview
The pottery clay is the clay of Otani area in Hanamaki-shi, and the mountain sand of the upper part of the Toyosawa River is hand-made by the Rokuro method and baked using a traditional climbing pot. There are many green and milky white varieties. It is a pottery that has been settled down in most of the daily use equipment such as vases.
History / History
It is said that it was the beginning that Iori Kouki, who became a potter of Morioka Zen later in the Bunsei year (1818-1829), built a fortress in the city of Blacksmith Town. The main family went out of business at the end of the Meiji era, and the remaining homes were canceled during the war by the fourth generation of the war. The current blacksmithing ceremony was first opened in 1944 in the first generation of Katsuyoshi Abe, who was trained at Mashiko Hajimoto in an effort to restore the old pottery method.
Main products
・ Boiled rice bowl: 1,000 yen ...
・ Tokutoshiri: 1,500 yen ...
・ Coffee set: 2,300 yen
-One wheel: 1,500 yen ~
・ Flower bottle: 15,000 yen ~
Manufacturing process
Sieving → Soiling → Stir-milling → Forming → Finishing → Drying → Drinkling → Grinkling → Grinkling → Finally Burning
contact information
Blacksmith Dinning Baron Tae Abe
(Home) 〒 025-0095
Iwagami Town, Hanamaki City, Iwate Prefecture 432
TEL0198-23-3679
(Workshop) 〒 025-0244
Iwate Hanamaki-shi, Yueji Serizawa 25-1
TEL (mobile) 090-7328-4865