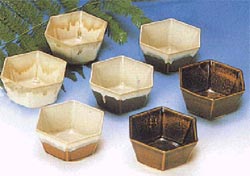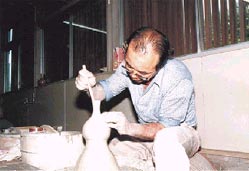 Main production area
Kuji
Overview
Based on clay available from the local community, there is a warm white potato with straw ash, and an American potato with sand iron, and it produces everyday dishes. Tea utensils and vases are also popular.
History / History
It is said that the beginning of the 10th year of culture (1813), pottery Chikazo of Soma (Fukushima Prefecture) was built in Mikamachi with the help of the six members of Kokuchi Tentauchi. After that, Rokuko, Kumagai Saemon studied under Kazo and burned pottery, and the technique has been taken over for generations in the Kumagaya family, but after the sixth generation Ryutaro, and the fourth generation Hatsutaro died, local industry By Mr. Matsumoto and Mr. Matsuo who were responsible for the training, a pot was built in Okuji in 1955, and production is continued while maintaining that tradition.
Main products
Chopsticks: 50,000 yen ~
Matcha green tea burnt: 30,000 yen ~
Coffee cup: 2,100 yen ...
Tokutoshi: 1,800 yen-
Hot water bowl: 1,000 yen ...
contact information
Kogushi Ceramics Co., Ltd. 〒 028-0071
Iwate Prefecture Kuji City Kakuji Town 31-29-1