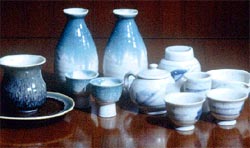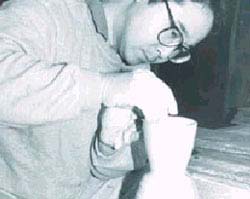 Main production area
Hanamaki
Overview
It is robust and elegantly hand-painted, with a grandeur.
History / History
In the middle of the Meiji period, it was porcelain that was born on the stage of Hanamaki Onsen. Founder Sugimura Kanbei sought pottery in the hot spring Mt. Manju, and struggled to create a robust and elegant product that could withstand the climate of a cold country. Among them, white porcelain is at the advanced level, and won the Peace Exposition of 11 years, and its representative work is also a cultural asset of Hanamaki City.
Main products
・ Boiled bowl: 1,200 yen-(tax included)
-Mug: 2,000 yen ~ (tax included)
・ Coffee cup and saucer: 2,500 yen-(tax included)
-Beer cup: 2,000 yen-(tax included)
・ Flower on
・ Various tea pots
・ Others
Award calendar
1997 Japanese Folk Art Recruitment Exhibition Excellence Award and other awards
Manufacturing process
Soil tenacity → rolling → shaving → unglazing → potting (painting) → burning
contact information
Taiyaki Co., Ltd.
〒 025-0304
Iwate Prefecture Hanamaki-shi Yumoto second ground 9: 2
TEL0198-27-2622