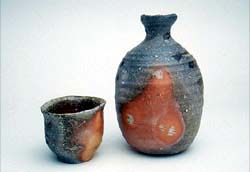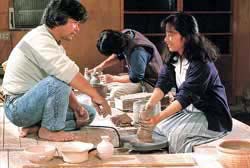 Main production area
Ichinoseki
Overview
The feature of Fujisawa-yaki is how to bake red pine for a few days in a pottery. The molded one is burned directly to the fuel without using the upper pot. While soaking, the ash of the red pine flies and adheres to the work, and it melts at high temperature, and the baking is a pottery that feels like a rustic warmth, covered with green glaze and covered with a glaze.
History / History
Fujisawa-yaki is a pottery-fired pottery fired in an agate from the Middle Ages. At the Fujisawa-machi Ceramics Center, there are pottery classes where general and family members can participate, and it has been well received.
Main products
・ Flower: 10,000 yen ~
・ 壷: 100,000 yen ~
-Plate: 5,000 yen ~
・ Tokutoshiri: 10,000 yen ...
・ Boiled rice bowl: 3,000 yen ...
Manufacturing process
Raw soil → Suihi → clay → mulberry molding → drying → baking → completion
contact information
Fujisawa Yaki-koro rice cake
〒029-3311
Iwate Prefecture Ichinoseki City Fujisawa Town Yellow Sea Character West Deep Sea 241
TEL 0191-63-3907