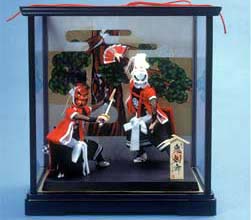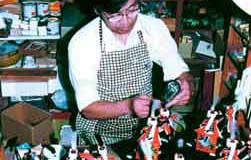 Main production area
Kitakami
Overview
Oni-ken dance is a representative folk entertainment of Iwate Prefecture that has been transmitted to the Kitakami region. A variety of demon sword dance goods that incorporate various demonic faces and bursts of dynamic dance into dolls, loop ties, etc., and also serve as a vicious accompaniment.
History / History
Oniken dance is said to have begun to dance in the Great Treasure Year (701 to 4), with the role of the warrior Kokaku, who began to dance in light of the disease and diseases, swordsmanship, Tensei Taihei, five-grain rich fertility, and universalism. The hornless "Kimmen" is not a horrible demon, but represents the "Mochi" in the incarnation of the Ming king who turned to Shimichi. The basics are to dance in groups of eight, but only white faces are given by leaders, and the other seven are given faces in red, blue and black.
how to use
A variety of Oni Ken Dance goods incorporating Oni Ken Dance into dolls, loop ties, etc., which also serve as a retreat.
Main products
・ Oniken dance doll: 3,900 yen ~
-Bill mascot: 600 yen ~
・ Typin: 2,000 yen
・ Oni face: 4,500 yen ...
contact information
Kitakami doll eggplant folk art
〒 024-0056
Iwate Prefecture Kitakami city Onyanagi Arataka 68-3
TEL0197-67-2534