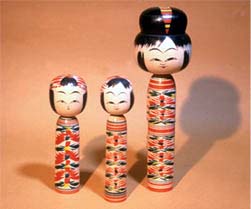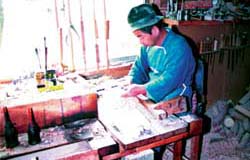 Main production area
Nishiwaga
Overview
It is characterized by a large head and brilliant for the thickness of the torso. In addition, "Onekokeshi," whose head is in the shape of a bowl, is also characterized by its cuteness. Raw trees are maple trees, cherry trees, cherry trees, pears, etc. As a wooden toy, it has been well received for gifts.
History / History
The Kobayashi plant was opened in Yumoto with a lecturer named Sato Kozo, a worker at Tokarida, in 1918, and he has been receiving today with Kozo, Yoshisaku Kobayashi and Sadao Kobayashi.
Main products
・ Kokeshi 6 size: 800 yen
・ Kokeshi 8 size: 1,500 yen
・ Kokeshi 1 scale: 2,000 yen
Manufacturing process
Wood harvesting → pruning → transportation → drying → ball cutting → lumbering → lumbering → drilling → finish
contact information
Traditional Kokeshi shop "Kichijiya"
〒 029-5506
Iwano prefecture Waka-gun Nishi Waga-cho Yunosawa
TEL0197-84-2054